Travel for kids

Park im. Fryderyka Chopina w Koninie

Park im. Fryderyka Chopina położony jest w starej części miasta Konina. Liczący ok 30 hektarów park jest niezwykłym miejscem, które warto odwiedzić z całą rodziną. Największą jego atrakcją jest Mini ZOO, w którym można zobaczyć między innymi takie zwierzęta jak: alpaki, strusie afrykańskie, kozy, dziki oraz daniela albinos. Ponadto do dyspozycji odwiedzających przeznaczono ławeczki, duży plac zabaw dla dzieci, siłownie na świeżym powietrzu, przyrodniczą mapę regionu, starosłowiański krąg kamienny, plansze na temat: epoki lodowcowej, kultury naszych przodków, wód w regionie, stacji Kopalni Węgla Brunatnego w Koninie, kopalni soli w Kłodawie. Zagospodarowana została również ścieżka edukacyjna "zielona klasa". Idealnym miejscem na odpoczynek po harcach w parku jest Bulwar Nadwarciański.

W mieście znajduje się ponadto 6 pomników przyrody:

- 2 dęby szypułkowe w parku im. F. Chopina,
- dąb szypułkowy nieopodal Dworca PKP,
- głaz narzutowy - granitowy na Osiedlu Legionów,
- głaz narzutowy - granitowy na cmentarzu komunalnym w Morzysławiu,
- głaz "Olbrzym Anielewski" w Malińcu,
- grusza przy ul. Kamiennej.
| | | |
| --- | --- | --- |
| | | |
---

Forest Education Centre in the Forest District Grodziec

The main idea of the center is to conduct forest eduction in a practical and above all enjoyable way.There is an educational chamber, which allows you to familiarize yourself with rare flora and fauna and inanimate natture in the form of manipulated exhibits. In addition, 8 m above the ground positioned a lookout platform from which one can observe the animals ine the forest nursery habitat. Forest Education centre also has a mock-up of a brown coal mine and power stationas and Chata Grodziecka used to talks, competitions, etc.

Through the nearby woods in the vicinity of the Centre appointed 200 km of cycle paths, including the path "Strok", which runs the area of the balck strok strict protection. On the path are 8 stops with educational boards on issues of forest, hunting, ornitological and conservation.

The center is open to the public throughout the year:
• From April 1 to September 31, hours 8:00am - 20:00pm,
• From 1 October to 31 March, hours 8:00am - 18:00pm.

More information: (click here)


| | | |
| --- | --- | --- |
| | | |
---

Educational path in Powidzki Landscape Park, runs the shores of Lake Wilczynskie, starts at the Communal sports and Recreation Centre in Wilczyn (Mrówki). The destination of journey is an archeological museum in Kownaty-Mrówki. Along the way we will look at the species of flora and fauna and selected ecosystems of Powidzki Landscape Park, and we get the information from the fields of history and archeology. The distance is about 3 miles one way. Theoretical transition time is about an hour. On the route path is 5 stops: Stop 1 - Alders and riverine forests, Stop 2 - Fauna, Step 3 - The ecosystem of the lake, Stop 4 - Trees and shrubs, Step 5 - Archeological Open air Museum in kownaty - Mrówki.



---

Educational, cultural and natural path in Żychlin

1.5 km long path in Żychlin leads through Żychliński forest, mini dinosaur park, of the evangelical - reformed parish, ending its run at the former Palace of the Bronikowscy in the historic prak. The path is intended to show the beauty of nature and cultural heritage in Żychlin. The path is enriched with information boards describing, among others, historic cementery evangelical and rules of behavior in the forest, or functions and phase of the forest life

Further tables on the path are devoted to cultural heritage of Żychlin. Describing historical buildings evangelical - reformed, ie. the church bell tower, the rectory, a mausoleum with lapidary and the history of the palace the Bronikowscy. On the path of natural, cultural and educational in Żychlin can also find information about the various plants located in the park, and the models of dinosaurs and their descriptions.


| | | |
| --- | --- | --- |
| | | |
---

Forest and nature path in Bieniszew

Konin Forest District in 1998 opened this natural - forest path, which in an accessible way brings visitors to the issues concerning the forest and its survival, stability and continuity in the best condition. The path runs through scenic forest areas Bieniszewska Primeval Forest among nature reserves.
---
Mini ZOO w Modlibogowicach
Mini ZOO w Modlibogowicach jest idealnym miejscem dla rodzin oraz grup szkolnych. Zwiedzający jego teren mają możliwość zobaczyć takie zwierzęta jak: strusie afrykańskie, strusie emu, daniele, konie, kuce szetlandzkie, jeżozwierze, lamę, małpki i wiele innych. Do dyspozycji dzieci jest także plac zabaw, który obejmuje zjeżdżalnie, huśtawki oraz piaskownice. Ponadto Mini ZOO oferuje przejażdżki bryczką, jazdę na kucyku, pieczenie kiełbasek przy ognisku, degustację jajecznicy ze strusich jaj. Więcej informacji na stronie: Mini ZOO w Modlibogowicach

---

Westernland - wioska indiańska



Józefów 52A k/Chocza
63-313 Chocz
www.westernland.pl
---

Indian Village "Raven Territory"
Indian Vilage "Raven Territory" was opened on May 1, 2008. It is the largest of its kind in the whole of Europe! It is located on 5 acres land and cosists of:
- Indian Village, 20 original Indian tepees of different sizes,
- Indian Track Adventures for children to 16 years old and Playgorund Sands of Arizona with bisons to climbing for children up to 6 years,
- shooting with the positions such as: Paintball, a throw with a tomahawk, a horseshoe, a hat on buffalo horns,
- Indian aouvenir shop
- Sheriff's Cottage and imprisonment
- Grill trapper, where you can eat the simple eaten Indian,
- Settlement of trappers and gold prospectors with pioneers cars discovering the wild west, and the dance floor, country,
- Hut with gold scrubber, at which trapper teaches the art of panning with gold metal bowl,
- Trapper's cottage and forge,
- Paintball field - the forest with fort to get to and numerous guards,
- Western Rodeo with the paddock (fenced square) to show stuntman;s riding, cow milking and "Rancho of blow balls' (pol. rancho dmuchańców), wich consists of: mechanical bull rodeo, soft mountain to climb, slide and western style trampoline.

Indian Village has 70 beds (type tents tipi), free parking for cars and buses. For more information visit: Village of Indians "Raven Territory"
| | | |
| --- | --- | --- |
| | | |
---

Park linowy "Leśny Raj"


ul.Napoleona 15 B
62-561 Ślesin
Tel. 665 025 555
www.parklinowy.konin.pl

Rope park "Leśny Raj" w Ślesinie

Ropes Course "Forest Paradise" (pol. Leśny Raj) is 60 obstacles which have a total lenght of 400 meters and an hour-long fun, suspended above the ground of 5 to 11 meters. The diversity of obstacles do not get bored of visitors, 4 rolls offer maximum speed and fun, footbridges that will test your balance and require traverses and many others provide an unforgettable experience and a sense of freedom.


---

Park Makiet "Mikroskala"


ul. Świętojańska 20H
(Centrum Rozrywki Kropka)
62-500 Konin
+48 63 243 70 37
+48 506 833 683
rezerwacje@mikroskala.eu
biuro@mikroskala.eu
www.mikroskala.eu

Park of mocks "Mikroskala" is an entirely new , unique in Europe. In the park there is a display of mock-ups of the film, nature and history. Visitors to the park can also see: mock explosion in Hiroshima, the movie "Star Wars", Noah's Ark, Christopher Columbus fleet off the coast of the Caribbean, the sinking of the Titanic, and a model of the landing on the moon. There are also traditional railway models for older and younger fans of the railways. For younger guests in park waiting amusement park full of colors and lights, mock og the age of dinosaurus, as well as a ride through the land of fairy tales known to all.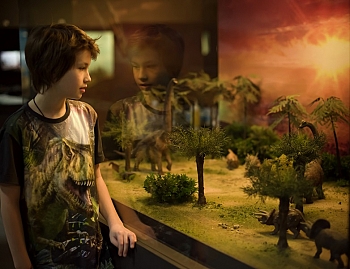 Park originality lies in the interactivity of some mock-ups. Yhis means that they are equipped with electronic systems that enable the launch elements, aound effects and lights. In the park, there is also a small cinema room, which is shown a video of the steps to the mockups. Guests also have the opportunity to see the modeling workshop, where new projects are created.

Tickets to park are full-day. During the tour, you can take advantage of the leisure and recreation halls. It's equipped with an experimental educational toys with a store "Mądra Zabawka" ("clever toy") located in the Park. Younger therefore have an opportunity to play, during which adults can relax or read...

Park is located in a building of Entertainment Centre Kropka in Konin - so the terms of visits are not dependent on the weather.

"Mikroskala" "Micro-scale" is open daily from 10:00 to 20:00 (last entrance to the park at 19:00)
www.mikroskala.eu
ul. Świętojańska 20H (Entertainment Centre Kropka)
62-500 Konin
---

Park Rekreacji i Aktywności Fizycznej


ul. 600 Lecia 21
(Ośrodek Sportu i Rekreacji)
62-540 Kleczew
www.osir.kleczew.pl/index.php/park.html


Park Rekreacji i Aktywności Fizycznej w Kleczewie

Obiekt rekreacyjno-wypoczynkowy, który powstał w maju 2013 roku na terenie byłej kopalni odkrywkowej węgla brunatnego. Teren wokół zbiornika wodnego wraz z plażą zagospodarowany został obiektami rekreacyjno – sportowo - turystycznymi, tj.: pomosty pływające, trasy dla quadów, slipy służące do wodowania lekkich łodzi, wiata do grillowania, wypożyczalnia sprzętu wodnego, plac zabaw, ścieżki pieszo-rowerowe, plac rekreacyjny oraz zielona szkoła z tarasem widokowym. Największą atrakcją parku zarówno dla dzieci jak i młodzieży jest park linowy na palach. W parku linowym płaci się jedynie za wynajęcie sprzętu asekuracyjnego. We wrześniu park linowy jest czynny tylko w weekendy. Pozostała część Parku Rekreacji i Aktywności Fizycznej w Kleczewie jest czynna przez cały rok.
Arendel - wioska norweska

Włodzimirów 16,
62-410 Zagórów
www.arendel.pl
Arendel to miejsce, w którym można spędzić wolny dzień wspólnie z rodziną. Przytulne zakątki gospodarstwa zachęcają do zorganizowania pikniku nieopodal zagród kuców lub reniferów. Na terenie agroturystyki znajduje się plac zabaw oraz duża ilość terenu, na którym dzieci mogą bezpiecznie się pobawić. Dla chętnych możliwe jest strzelanie z łuku oraz przejażdżki na kucyku.
Wokoło jest mnóstwo miejsca do gonitw i gier na wolnym powietrzu. Dla grup zorganizowanych oferowane są zabawy z animatorem, edukacyjna prezentacja o Skandynawii, konkursy z nagrodami.
Gospodarstwo Agroturystyczne "Pradolina"

Szczepiło 90
62-513 Krzymów
http://www.pradolina.com.pl

W pięknej dolinie Warty, wśród lasów i wzgórz, nieopodal płynącego strumyka, w gminie Krzymów znajduje się Gospodarstwo Agroturystyczne "Pradolina". To miejsce na wypad poza miasto razem ze szkołą lub z rodzicami. Oferta obiektu koncentruje się na zajęciach rekreacyjno-edukacyjnych dla dzieci i młodzieży, a także organizacji imprez plenerowych i okolicznościowych. Można zobaczyć jak rzeźbi się w drzewie, przejść się boso ścieżką zdrowia, postrzelać z łuku i wiatrówki, pobawić się w podchody, czy poszukać skarbu piratów. Atrakcją jest też pieczenie pizzy, albo chleba. Zawsze można rozpalić ognisko i upiec kiełbaski. Gospodarstwo to również miejsce dla miłośników koni, którzy skorzystać mogą z nauki jazdy konnej, przejażdżce bryczką, czy zimą w organizowanych kuligach. Oferta obejmuje również zajęcia hipoterapeutyczne. Więcej informacji na stronie: www.pradolina.com.pl

---

Agroturystyka "Ania i Filip" w Izabelinie – Mini Zoo



Izabelin 47
62-500 Konin
www.aniafilip.net

W malowniczej pradolinie rzeki Warty, we wsi Izabelin, w bliskiej odległości kanału Warta-Gopło znajduje się łącząca turystykę z hodowlą zwierząt, Agroturystyka "Ania i Filip". Wielbiciele bliskiego kontaktu z przyrodą mogą podpatrzeć z bliska życie zwierząt. Lamy, dziki, daniele, muflony, kozy, strusie, bażanty to tylko część mieszkańców zwierzyńca. Ciekawość również budzą inkubatory, w których śledzić można narodziny ptaków. Przy Mini Zoo znajduje się muzeum przyrodnicze z eksponatami zwierząt z całego świata.
---

Alpakarnia P&M w Szyszyńskich Holendrach

Szyszyńskie Holendry 2
62-561 Ślesin
www.alpaka.net.pl
Alpakarnia znajduje się w Szyszyńskich Holendrach. Gospodarze zajmującą się hodowlą Alpak – zwierząt wspomagających rehabilitację osób niepełnosprawnych. Liczebność stada wynosi 120-130 sztuk. Alpaki te pochodzą z Polski, Chile, USA, Australii, Niemiec i Hiszpanii. Agroturystyka zajmuje się również uprawą roślin i kwiatów egzotycznych: kaktusów, sukulentów, palm, yuki, itp. Gospodarstwo oferuje wycieczki piesze z alpakami, karmienie alpak, gry, konkursy, zabawy, a także pokazy przędzenia i filcowania włókna alpak.
---

Gospodarstwo Agroturystyczne "Pod brzozami" w Grochowach



Grochowy 119
62-574 Grochowy
www.podbrzozami.com
Położone w gminie Rychwał, we wsi Grochowy gospodarstwo wyróżnia się ofertą skierowaną do najmłodszych. Dzieci mogą tu uczestniczyć w codziennym życiu gospodarstwa rolnego i poczuć się prawdziwi farmerzy. Razem z gospodarzem wyprowadzą na łąkę krowy i nauczą się je doić, nakarmią świnki, króliki, kurczaki. Jest też kozia rodzina, owca i kucyki Kacper i Malezja. Dzieci mogą pomagać w zbieraniu chrustu i rozpalaniu ogniska. O dobrą zabawę zatroszczą się również animatorzy, którzy organizują zabawy dla całych rodzin. W Agroturystyce odbywają się również przejażdżki wozem, pokazy wyrabiania masła i sera, a także degustacja lokalnych produktów.
| | | |
| --- | --- | --- |
| | | |
---

Pracownia Garncarska w Czarnymbrodzie
Pracownia Garncarska znajduje się w gminie Grodziec, w małej miejscowości Czarnybród. Prowadzona jest przez rodzinę Dzieciątkowskich. Tu wszystkie produkty toczone są ręcznie na tradycyjnym kole garncarskim. W pracowni można obejrzeć i zakupić: wazony, pojemniki do przechowywania czosnku oraz ziemniaków, misy itp. Gospodarze zapraszają również do zwiedzania pracowni, w której dowiedzieć się można jak wyglądała praca garncarza kiedyś, a jak wygląda dziś, obejrzeć piec, zobaczyć jak powstaje garnek od początku do wypalenia. Można również samemu spróbować toczenia na kole garncarskim i wykonać naczynia. Każde będzie wyjątkowe, ale aby je wziąć do ręki trzeba poczekać. Suszenie i wypalanie w piecu zajmuje około tygodnia. Organizowane są również pokazy i warsztaty garncarskie dla dzieci i dorosłych.
Więcej informacji na stronie:
www.garnarstwo.decoart.pl