Parki rozrywki
---

Park Makiet "Mikroskala"


ul. Świętojańska 20H
(Centrum Rozrywki Kropka)
62-500 Konin
+48 63 243 70 37
+48 506 833 683
rezerwacje@mikroskala.eu
biuro@mikroskala.eu
www.mikroskala.eu

Park of mocks "Mikroskala" is an entirely new , unique in Europe. In the park there is a display of mock-ups of the film, nature and history. Visitors to the park can also see: mock explosion in Hiroshima, the movie "Star Wars", Noah's Ark, Christopher Columbus fleet off the coast of the Caribbean, the sinking of the Titanic, and a model of the landing on the moon. There are also traditional railway models for older and younger fans of the railways. For younger guests in park waiting amusement park full of colors and lights, mock og the age of dinosaurus, as well as a ride through the land of fairy tales known to all.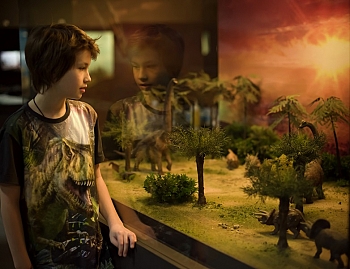 Park originality lies in the interactivity of some mock-ups. Yhis means that they are equipped with electronic systems that enable the launch elements, aound effects and lights. In the park, there is also a small cinema room, which is shown a video of the steps to the mockups. Guests also have the opportunity to see the modeling workshop, where new projects are created.

Tickets to park are full-day. During the tour, you can take advantage of the leisure and recreation halls. It's equipped with an experimental educational toys with a store "Mądra Zabawka" ("clever toy") located in the Park. Younger therefore have an opportunity to play, during which adults can relax or read...

Park is located in a building of Entertainment Centre Kropka in Konin - so the terms of visits are not dependent on the weather.

"Mikroskala" "Micro-scale" is open daily from 10:00 to 20:00 (last entrance to the park at 19:00)
www.mikroskala.eu
ul. Świętojańska 20H (Entertainment Centre Kropka)
62-500 Konin
Park Linowy jest specjalnie przygotowanym terenem do zabawy na linach. Korzystać z niego mogą dzieci (samodzielnie od 120 cm wzrostu), młodzież oraz dorośli. Park Linowy "Leśny Raj" jest pierwszym tego typu parkiem rozrywki w naszym regionie. Posiada 61 różnorodnych przeszkód zlokalizowanych na trzech trasach o różnym poziomie trudności. Nasz park zapewni Państwu niezapomniane wrażenia, mega adrenalinę oraz poczucie wolności. Jest to wspaniały pomysł na aktywne spędzanie wolnego czasu. Dzięki pobycie w parku linowym można nauczyć się opanowania, utrzymywania równowagi, odpowiedzialności oraz przełamać
barierę strachu i lęku wysokości.
W ,,Leśnym Raju" znajdują się 3 trasy o róznym poziomie trudności i wysokości, dzięki czemu każda osoba bez względu na stopień sprawności fizycznej będzie mogła przejść całą trasę.
Po zakupie biletu gość parku zostaje wyposażony w profesjonalny sprzęt asekuracyjny (uprząż, lonże, karabinki, trak, kask). Następnie wraz z instruktorem udaje się na trasę szkoleniową, gdzie zostanie pokazane i wyjaśnione w jaki sposób prawidłowo i bezpiecznie pokonywać przeszkody. Uczestnik musi powtórzyć prezentowane czynności, a instruktor poprawi ewentualne błędy. Dopiero po ukończeniu szkolenia, gość jest dopuszczony do wejścia na wybraną trasę.

Park linowy jako jedyny w Polsce posiada nową przeszkodę: linoskoczek. Jako jeden z nielicznych w kraju Park Linowy "Leśny Raj" posiada certyfikat bezpieczeństwa niemieckiej firmy TUV.

Źródło: www.parklinowy.konin.pl


Park Rekracji i Aktywności Fizycznej



ul. 600 lecia 21
(Ośrodek Sportu i Rekreacji)
62-540 Kleczew
www.osir.kleczew.pl/index.php/park-linowy.html

Obiekt rekreacyjno-wypoczynkowy, który powstał w maju 2013 roku na terenie byłej kopalni odkrywkowej węgla brunatnego. Teren wokół zbiornika wodnego wraz z plażą zagospodarowany został obiektami rekreacyjno – sportowo - turystycznymi, tj.: pomosty pływające, trasy dla quadów, slipy służące do wodowania lekkich łodzi, wiata do grillowania, wypożyczalnia sprzętu wodnego, plac zabaw, ścieżki pieszo-rowerowe, plac rekreacyjny oraz zielona szkoła z tarasem widokowym. Największą atrakcją parku zarówno dla dzieci jak i młodzieży jest park linowy na palach. W parku linowym płaci się jedynie za wynajęcie sprzętu asekuracyjnego. We wrześniu park linowy jest czynny tylko w weekendy. Pozostała część Parku Rekreacji i Aktywności Fizycznej w Kleczewie jest czynna przez cały rok.